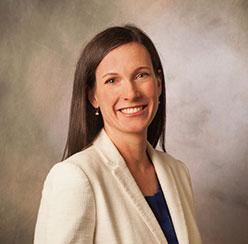 Amy G. Larsen
Amy Larsen's practice focuses on divorce and custody disputes. Her goal is to help clients make informed decisions regarding all aspects of a divorce, including custody of children, child support, alimony, and property and debt division. A trained family law mediator, Ms. Larsen recognizes the value of a negotiated settlement as an effective way to help clients accomplish their goals while preserving limited financial resources. She also realizes that many cases require a more aggressive approach and has effectively obtained favorable results for her clients through the courts.
Ms. Larsen is committed to providing quality legal representation on an individual basis, focusing on clients' long-term needs while helping them navigate through the uncertainties of divorce and custody disputes. The one-on-one attention she gives helps her understand each client's specific needs and design a case plan to meet those needs within the ethical boundaries of the law.
Prior to practicing family law with Hanks & Peterson, P.C., Ms. Larsen handled various real estate disputes involving landlords and tenants, and home owners' associations.
Practice Areas
Adoption
Child Custody and Support
Divorce
Guardianship
Parentage
Trustworthy, tenacious and respected Salt Lake City lawyer
If you have a legal issue and need competent and responsive legal counsel in Utah, the attorneys of Hanks & Peterson, P.C. are here to help. Our divorce attorneys in Salt Lake City apply tenacity, judgment and high ethical standards to every area of our practice. If you are going through a legal dispute in your personal or business life or if you need legal counsel for an upcoming transaction or venture, Hanks & Peterson, P.C. offers an effective alternative to impersonal and expensive big firms. Call us today at 1-855-888-5608 or contact us online.
Admitted
Utah State Bar, 2005
Education
Professional Associations
Utah State Bar, Family Law Section
Client Testimonial
Working with the Hanks and Peterson firm was very satisfying. We were able to get good works accomplished. I was very happy with the final result. - A.G.
Quick Contact Form
To help you get started, please fill out the form below and click submit - or if you prefer, you can call our office at:
1-855-888-5608.