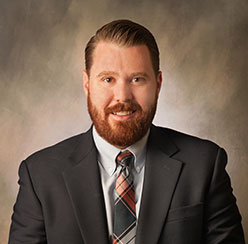 David L. Hanks
Mr. Hanks received his Juris Doctor from the University of Utah, S.J. Quinney College of Law, where he graduated with Honors. He earned a Bachelors of Arts degree in Anthropology from the University of Utah, graduating magna cum laude.
Practice Areas

Contract Drafting
Advanced Legal Research
Landlord/Tenant Law
Real Estate Transactions, Finance, and Development
Family Law
Personal Injury
Admitted

Utah, 2016
United States District Court, 2016
Professional Associations

Utah State Bar

Real Estate Section
Family Law Section

Salt Lake County Bar Association
Davis County Bar Association
Trustworthy, tenacious and respected Salt Lake City lawyer
If you have a legal issue and need competent and responsive legal counsel in Utah, the attorneys of Hanks & Peterson, P.C. are here to help. Our divorce attorneys in Salt Lake City apply tenacity, judgment and high ethical standards to every area of our practice. If you are going through a legal dispute in your personal or business life or if you need legal counsel for an upcoming transaction or venture, Hanks & Peterson, P.C. offers an effective alternative to impersonal and expensive big firms. Call us today at 1-855-888-5608 or contact us online.
Client Testimonial
Working with the Hanks and Peterson firm was very satisfying. We were able to get good works accomplished. I was very happy with the final result. - A.G.
Quick Contact Form
To help you get started, please fill out the form below and click submit - or if you prefer, you can call our office at:
1-855-888-5608.