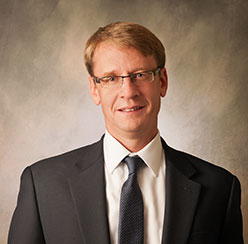 Brady Kronmiller
Mr. Kronmiller is a litigator specializing in family law matters including divorce actions, child custody disputes, and parenthood and paternity cases. Mr. Kronmiller also represents business entities in litigation and bankruptcy cases as part of his practice. He has represented clients in state and federal courts, in debt collection, civil litigation, and real estate disputes, estate planning and probate matters, and administrative agency proceedings.
Mr. Kronmiller is an alumni of the University of Utah's S.J. Quinney College of Law. In addition to his law practice, Mr. Kronmiller is an adjunct faculty member at Weber State University.
Prior to joining Hanks & Peterson, Mr. Kronmiller practiced law with the firm of Stevenson & Smith, P.C.
Trustworthy, tenacious, and respected Salt Lake City lawyer
If you have a legal issue and need competent and responsive legal counsel in Utah, the attorneys of Hanks & Peterson, P.C. are here to help. Our divorce attorneys in Salt Lake City apply tenacity, judgment and high ethical standards to every area of our practice. If you are going through a legal dispute in your personal or business life or if you need legal counsel for an upcoming transaction or venture, Hanks & Peterson, P.C. offers an effective alternative to impersonal and expensive big firms. Call us today at 1-855-888-5608 or contact us online.
Practice Areas
Family Law
Divorce
Child Custody and Support
Probate and Probate Litigation
Adoption
Business Formation
Guardianship
Parentage
Real Estate Litigation
Will and Trusts
Bankruptcy
Collections
Civil Litigation
Education
J.D., University of Utah

Graduated with High Honors
S.J. Quinney College of Law Outstanding Achievement Award
William H. Leary Scholar
Client Testimonial
Working with the Hanks and Peterson firm was very satisfying. We were able to get good works accomplished. I was very happy with the final result. - A.G.
Quick Contact Form
To help you get started, please fill out the form below and click submit - or if you prefer, you can call our office at:
1-855-888-5608.