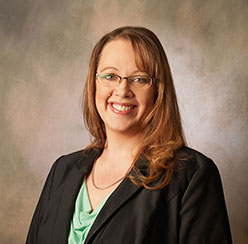 Mindi Hansen
Ms. Hansen's practice focuses on estate planning, family law, and mediation. Through her estate planning practice, Ms. Hansen works with clients to form estate plans through the drafting of wills, trusts, powers of attorney, and other necessary documents to address each client's specific and individual needs. As a part of the firm's family law practice, Ms. Hansen represents clients in matters including divorce, custody disputes, property division, support issues, and decree modifications. Ms. Hansen is also a private guardian ad litem representing children.
Ms. Hansen has been involved in high conflict family law actions since she began working at Hanks & Peterson in 2010. Through this experience, Ms. Hansen has found that mediation can be an effective way to resolve these difficult family disputes. Ms. Hansen enjoys using her experience to help parties find a creative resolution outside of litigation. Ms. Hansen mediates all types of family law issues (i.e. divorce, modifications, parent-time, custody, financial issues, contempt, etc.), probate matters, contract disputes, and personal injury matters.
Ms. Hansen received her Juris Doctor from the University of Utah, S.J. Quinney College of Law, where she graduated with High Honors and was a Willian H. Leary Scholar. She also served as the Executive Symposium Editor of the Utah Law Review. During law school, Ms. Hansen had the opportunity to intern with Judge Randall Skanchy of the Utah Third District Court.
Practice areas
Mediation

Family law
Probate
Guardianship
Contract disputes
Personal Injury

Estate Planning

Wills
Trusts
Powers of Attorney
Health Care Directives

Probate
Family Law


Decree Modification
Child custody & parent-time
Guardianship
Parentage

Non-Profit Business Organization
Admitted
Utah State Bar, 2012
U.S. District Court, District of Utah, 2012
Education
Professional Associations and Memberships
Utah State Bar Association

Estate Planning Section
Family Law Section
LGBT & Allied Lawyers of Utah Section
Client Testimonial
Working with the Hanks and Peterson firm was very satisfying. We were able to get good works accomplished. I was very happy with the final result. - A.G.
Quick Contact Form
To help you get started, please fill out the form below and click submit - or if you prefer, you can call our office at:
1-855-888-5608.