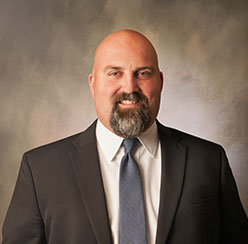 Robert W. Peterson
As an attorney with Hanks & Peterson, P.C., Robert Peterson handles a variety of family law and divorce issues, representing clients in divorce, child custody and protection from abuse matters.
A unique understanding of natural resource law
Mr. Peterson has an extensive background in ecology and natural resources, having studied fisheries and wildlife as an undergraduate and having obtained a master's degree in natural resources policy. Following law school, Attorney Peterson continued to pursue his interest in natural resources management and has represented utilities, financing institutions, resorts, mining companies, farms and oil companies in a variety of legal issues involving natural resources. In addition to his work in family law and natural resource issues, Attorney Peterson also handles civil litigation, property and complex probate issues.
Trustworthy, tenacious, and respected Salt Lake City lawyer
If you have a legal issue and need competent and responsive legal counsel in Utah, the attorneys of Hanks & Peterson, P.C. are here to help. Our divorce attorneys in Salt Lake City apply tenacity, judgment and high ethical standards to every area of our practice. If you are going through a legal dispute in your personal or business life or if you need legal counsel for an upcoming transaction or venture, Hanks & Peterson, P.C. offers an effective alternative to impersonal and expensive big firms. Call us today at 1-855-888-5608 or contact us online.
Practice areas
Family Law
Child Custody and Support
Civil Litigation
Adoption
Parentage
Domestic Violence
Land Use
Water Law
Natural Resource Law
Water Law
Business and Commercial Litigation
Business Formation
Fraud Litigation
Government and Administrative Law
Medical Malpractice
Personal Injury
Admitted
Education
Professional associations
Client Testimonial
Working with the Hanks and Peterson firm was very satisfying. We were able to get good works accomplished. I was very happy with the final result. - A.G.
Quick Contact Form
To help you get started, please fill out the form below and click submit - or if you prefer, you can call our office at:
1-855-888-5608.